Description
CODE : MCH – MKP – BDG – BP – EB30
Product Description
Punch Holes Quantity : 21
Punch Size : 3x8mm
Margin Adjustable : 3/6/9 mm
Punching Capacity : 30 sheets (A4/80g) : 35 sheets (A4/70g) max
Binding Capacity : 400 sheets (80g) max
Punching Blade Release : 1-21
Net Weight : 23 kg
Product details of MKP BP-EB30 Electronic Binding Machine
A binding machine is a device used to secure papers together. It is a relatively common piece of piece of equipment used in offices and schools.
To bind a document, the user first punches holes in the paper with a specialized hole punch. Pages must be punched a few at a time with these machines. If hard covers are desired, they must be punched as well.
Then the user chooses a spine size that will match the document. Standard sizes are 4.8 mm (3⁄16 in) (for 16 sheets of 20# paper) up to 51 mm (2 in) (for 425 sheets). Spine lengths are generally 280 mm (11 in) to match the length of letter-size paper.
The rings on the spine open and insert into the holes in the page, then rest against the body of the spine, resulting in a closure that can be opened again for making changes to the book.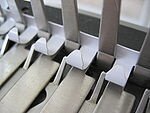 Machine opening the spine. Ring closed on paper.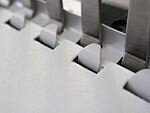 Pre- punched paper with spine rings through holes. Complete book out of machine.
Punch Holes Quantity : 21
Punch Size : 3x8mm
Margin Adjustable: 3/5/7 mm
Punching Capacity : 30 sheets (A4/80g) or
: 35 sheets (A4/70g) max
Binding Capacity : 400 sheets (80g) max
Punching Blade Release : 1-21
Net Weight : 23kg